About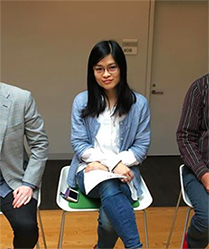 I am an Assistant Professor at the School of Journalism and Communication, the Chinese University of Hong Kong (CUHK). My research explores the connections between emergent technologies and cultural change. My past works have examined the domains of media use, political cultures and identity struggles, as well as the popular conceptions of emerging science and technologies. Using mixed methodologies, I draw on a number of fields including reception study, political communication, cultural sociology, science & technology studies (STS), and network science.
I received my Ph.D. from the Media, Technology and Society program in Northwestern University's School of Communication, my Master of Philosophy (M.Phil.) in Communication from CUHK, and my B.A. in Journalism and Communication with a Minor in Applied Computer Science from Tsinghua University, China.
I will be joining the Department of Media, Culture, and Communication at New York University in the fall of 2017.
Angela Xiao Wu
Room 206-7, Humanities Building
The Chinese University of Hong Kong
Shatin, N.T., Hong Kong
wu.angela.xiao [a t] gmail [d o t] com