About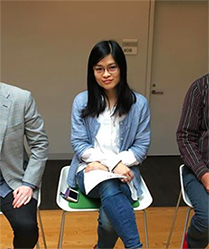 I am an Assistant Professor at the Department of Media, Culture, and Communication at New York University. Broadly I investigate the connections between media technologies, knowledge production, and politics.
My work has been supported by the American Council of Learned Societies (ACLS), the Henry Luce Foundation, the Chiang Ching-kuo Foundation, and the American Association of University Women (AAUW). I am currently working on a book that examines how public culture takes shape when systems thinking informs its conception and governance.
I hold a Ph.D. in Media, Technology and Society from Northwestern University, a Master of Philosophy (M.Phil.) in Communication from the Chinese University of Hong Kong (CUHK), and B.A. in Journalism and Communication with a Minor in Applied Computer Science from Tsinghua University. Before joining the faculty at NYU, I was an assistant professor at CUHK's School of Journalism & Communication.
Angela Xiao Wu
239 Greene Street, 8th Floor
New York, New York, 10003
angelaxwu [a t] nyu [d o t] edu
@ angelaxiaowu | Twitter